Update:
March 27, 2005 `
Werner takes one last shot
against gay and lesbian constituents.
Update:
March 25, 2005 ~
Egale Link
to Werner Schmidt's voting record on marriage issues and gay rights.
Campaign for Life
has quoted Schmidt with saying in 1997,
"(he) would consider resigning rather than vote against his pro-life beliefs..."
Earlier this year, MP Schmidt introduced a Bill proclaiming a stat holiday entitled "Family Day" to held in February of each year. Given the MP's record of voting against gay rights and same-sex marriage I wanted to know if he excluded gay families from Family Day. Here is his reply..

Subject: Family Day
Date: Thu, 24 Feb 2005 17:03:25 -0500
From: "Schmidt, Werner - Riding 1B"
To: caribookidca@yahoo.ca

Dear Mr. Barnes:

In reply to your letter of February 15, please allow me to quote from a statement I made in the House of Commons on Monday, February 21, 2005.

"Today I wish to emphasize something which we all have in common. It knows no definition. At its best it is a source of strength, respect, cooperation, compassion. It has more value than money or status or success. It is that thing which weaves together people who become communities that become a nation. It is family."

Thank you very much for writing and I trust that this answers your question about inclusion of your family.

Yours truly
Werner Schmidt, MP

WS/jl

-------------------------------------

I am satisfied the MP did not exclude my gay family from his bill.
Werner was also mentioned in today's Kelowna Cap News Editorial as having refused to opt in to the federal MP's Pension, if this is true, then Werner is indeed a rare breed in the former Alliance reform group. ----------------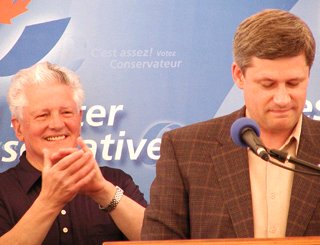 Werner Schmidt Calling It Quits
Kelowna Conservative MP Werner Schmidt is calling it quits.
The Member of Parliament for Kelowna-Lake Country announced Thursday that he will not be seeking re-election.
Schmidt a social conservative, known for his strong support for Christian values was elected October 25, 1993.
(see update above)